EN7312: Grammar Awareness
2017-18
Was ED7044
The teacher's guide to grammar - Cameron, Deborah 2007

Book Background This slim and accessible book looks at grammar from a discourse (text) perspective. It is written for English teachers in schools where English is either L1 or a second/additional language for most pupils.

English grammar: a resource book for students - Berry, Roger 20110415561086,0415561094,9780415561099

Book Background The book looks at grammar as it is actually used, and is divided into A, B, C sections where A contains the most basic information, and D the most advanced. The exercises in this book are excellent if you want to check your understanding. There are solutions and comments after each section.

Tense - Comrie, Bernard 19850521281385

Book Background If you are particularly interested in Tense, not only in English but in languages of the world, you should dip into this classic.

Making sense of grammar - Crystal, David 20040582848636,9780582848634

Book Background This is a very slim book but full of useful insights. Easy to read too.

Rediscover grammar - Crystal, David, McLachlan, Edward 20040582848628,9780582848627

Book Background Another slim, well written and useful book by the popular author and scholar.

An introduction to English grammar - Sidney Greenbaum, Gerald Nelson 2009

Book Recommended for Purchase This is the set text for the grammar course. If you buy a later edition, you will have access to a website with keys to the exercises, and additional exercises too.

An introduction to functional grammar - Halliday, M. A. K., Matthiessen, Christian M. I. M. 2004

Book Background Halliday is the founder of systemic functional grammar/linguistics. Seriously interested in functional grammar? Then you should read this.

Practical English usage - Swan, Michael 20050194420981,9780194420983

Book Background This is a pedagogic grammar - a grammar book to be used in teaching. That means it is simplified which makes it easy to read, but not always entirely right (language is more complex than this). Read it critically.

A comprehensive grammar of the English language - Quirk, Randolph, Crystal, David 19850582517346

Book Background As the title suggests, this grammar tries to cover all of English grammar and does a pretty good job of it too. If you can't find the explanation you are looking for anywhere else, you might find it here.

Focus on form-a myth in the making? - R. Sheen 01/07/2003

Article Background While the Grammar Awareness course does not deal with the teaching of grammar, at some point you need to make the link between this course and second language teaching and learning. This is a good place to start.

A communicative grammar of English - Leech, Geoffrey N, Svartvik, Jan 20020582506336

Book Background This is a mainstream grammar but organized around functions and notions - a different perspective, but the terminology you are used to.

Modality and the English modals - Palmer, F. R. 19900582034868

Book Background If you are especially interested in the meanings of English modal verbs, this is the book for you. A classic.

Grammar for English language teachers - Parrott, Martin 20000521472164,0521477972

Book Background Like all pedagogic (teaching) grammars, this one is easy to read. But it is simplified grammar, so read it critically.

A university grammar of English - Quirk, Randolph, Greenbaum, Sidney, Quirk, Randolph 19730582552079

Book Background This is a pretty thorough, mainstream grammar and there is a book of exercises with a key as well.

Collins COBUILD English grammar - Sinclair, John, University of Birmingham 19900003750256,000370257X

Book Background All the COBUILD books are corpus based. In other words, their rules and examples are derived from large collections of real use of English.
All rights reserved ©
Profile Required
Reading intentions and notes are stored against your user profile. Please create a profile to use this feature.
My notes
You must be logged in to add a note
What are item notes?
You can use item notes to make personal notes on any of your reading items. Notes are private to you and will not be shown to other users.
You can review your item notes from the list, the item page or from your profile page.
---
How do I create an item note?
To make notes, first you must be logged in. Once logged in, simply click Add note? next to the list item you wish to make notes on. You can also make notes at the bottom of every item's detail page.
Your note will be saved automatically as you type.
Have you read this?
You must be logged in to set a reading intention
What are reading intentions?
Setting up reading intentions help you organise your course reading. It makes it easy to scan through your lists and keep track of progress. Here's an example of what they look like: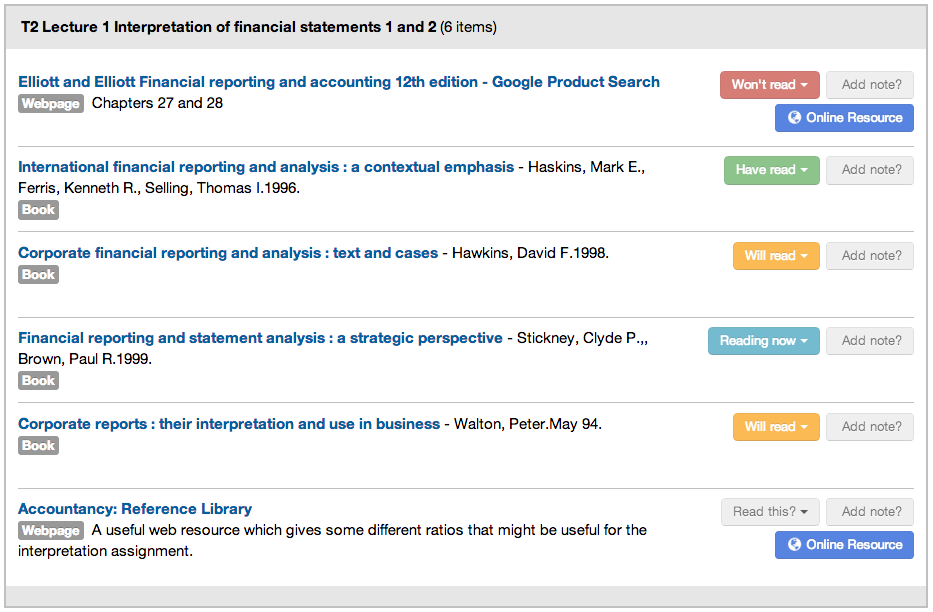 Your reading intentions are also stored in your profile for future reference.
---
How do I set a reading intention
To set a reading intention, first you must be logged in. Once logged in, click Read this? next to the list item you wish to set a reading intention for.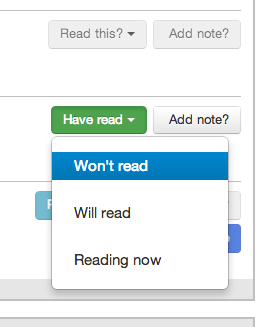 You can also set the reading intention from every item's detail page.