EL3021/ EL3023 English Language and Literature 1

This is the reading list for students attending the modules on English language and literature. It includes compulsory reading and suggestions for further reading.
These are the literary works you must read for this module. The editions suggested here are available in the library but any good edition of the texts will be suitable. If you are in doubt about the suitability of an edition, please ask your tutor.

Pride and Prejudice - Jane Austen 1999

Book Essential Pride and Prejudice, which opens with one of the most famous sentences in English Literature, is an ironic novel of manners. In it the garrulous and empty-headed Mrs Bennet has only one aim - that of finding a good match for each of her five daughters. In this she is mocked by her cynical and indolent husband. With its wit, its social precision and, above all, its irresistible heroine, Pride and Prejudice has proved one of the most enduringly popular novels in the English language.

Lyrical ballads: 1798 and 1802 - William Wordsworth, Samuel Taylor Coleridge 20130199601968,9780199601967

Book Essential Wordsworth and Coleridge's joint collection of poems has often been singled out as the founding text of English Romanticism. Within this initially unassuming, anonymous volume were many of the poems that came to define their age and which have continued to delight readers ever since, including 'The Rime of the Ancient Mariner', the 'Lucy' poems, 'Lines written a few miles above Tintern Abbey', 'A Slumber did my Spirit seal' and many more. Wordsworth's famous Preface is a manifesto not just for Romanticism but for poetry in general.

Wuthering Heights - Emily Brontë 2000

Book Essential Or any other edition. This is one of the set novels for 2014-15. Wuthering Heights is a wild, passionate story of the intense and almost demonic love between Catherine Earnshaw and Heathcliff, a foundling adopted by Catherine's father. After Mr Earnshaw's death, Heathcliff is bullied and humiliated by Catherine's brother Hindley and wrongly believing that his love for Catherine is not reciprocated, leaves Wuthering Heights, only to return years later as a wealthy and polished man. He proceeds to exact a terrible revenge for his former miseries. The action of the story is chaotic and unremittingly violent, but the accomplished handling of a complex structure, the evocative descriptions of the lonely moorland setting and the poetic grandeur of vision combine to make this unique novel a masterpiece of English literature.

Secondary reading

10 items

The items here are suggestions for further reading. You must also refer to at least two items from this list in your assignments for this module.

Study Skills & Support

3 items

These are books for self-study only. They can help you improve your academic writing skills.

Writing about Literature : A Guide for the Student Critic - William Frances Garrett-Petts 20139781551117430

Book Background Writing About Literature introduces students to critical reading and writing through a thorough and engaging discussion of the field, but also through exercises, interviews, exemplary student and scholarly essays, and visual material. It offers students an insider's guide to the language, issues, approaches, styles, assumptions, and traditions that inform the writing of successful critical essays, and aims to make student writers a part of the world of professional literary criticism. Much of the discussion is structured around ways to analyse and respond to a single work, Stephen Crane's story "The Bride Comes to Yellow Sky". The book presents specific examples of both student writing and professional academic writing, showing how to polish an essay from an "F" to an "A".

The Wiley Guide to Writing Essays about Literature - Paul Headrick 2014

Book Background This practical guide to writing analytical essays on literature develops interpretive skills through focused exercises and modeled examples. The program is tailored to meet the specific needs of beginning undergraduates. Features unique, detailed guidance on paragraph structure. Includes sample essays throughout to model each stage of the essay–writing process. Focused exercises develop the techniques outlined in each chapter. Dedicated checklists enable quick, accurate assessment by teachers and students. Enhanced glossary with advice on usage added to core definitions.

Studying literature: the essential companion - Paul Goring, Jeremy Hawthorn, Domhnall Mitchell 20100340985127,9780340985120

Book Background Studying Literature: The Essential Companion is a unique guide for English undergraduates. Designed to accompany you throughout the whole of your English degree, this is a one-stop reference for all the information you need, both on the subject and the best way to study it. Combining a study skills guide, a section on digital resources, a guide to literary theories and theorists and a glossary of literary terms, the companion blends academic rigour with vital practical information. Studying Literature: The Essential Companion provides you with the tools you need to engage with and enjoy English, ultimately ensuring exam confidence and success.
All rights reserved ©
Profile Required
Reading intentions and notes are stored against your user profile. Please create a profile to use this feature.
My notes
You must be logged in to add a note
What are item notes?
You can use item notes to make personal notes on any of your reading items. Notes are private to you and will not be shown to other users.
You can review your item notes from the list, the item page or from your profile page.
---
How do I create an item note?
To make notes, first you must be logged in. Once logged in, simply click Add note? next to the list item you wish to make notes on. You can also make notes at the bottom of every item's detail page.
Your note will be saved automatically as you type.
Have you read this?
You must be logged in to set a reading intention
What are reading intentions?
Setting up reading intentions help you organise your course reading. It makes it easy to scan through your lists and keep track of progress. Here's an example of what they look like: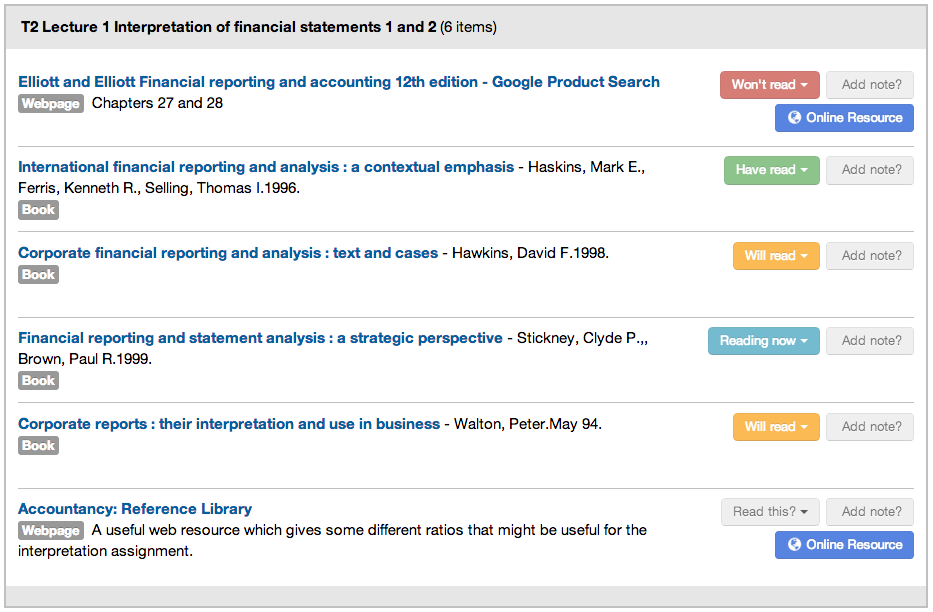 Your reading intentions are also stored in your profile for future reference.
---
How do I set a reading intention
To set a reading intention, first you must be logged in. Once logged in, click Read this? next to the list item you wish to set a reading intention for.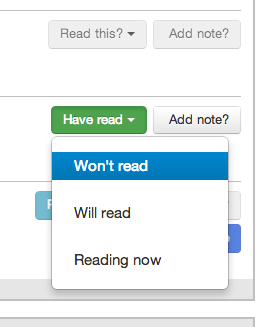 You can also set the reading intention from every item's detail page.