CR7149 - Theorizing Global Security Risk & Policing
2017-18
SESSION 1 - GLOBALISATION, RISK & GLOBAL SECURITY: AN INTRODUCTION

9 items

Why globalisation works - Martin Wolf 20040300102526,0300107773,9780300107777

Book The section on 'why the critics are wrong' is a useful argument as to why global capitalism is necessary.

SESSION 2 - RISK, SECURITY & POLICING: EVOLVING GLOBAL CONTEXTS

14 items

SESSION 3 - UNDERSTANDING GLOBAL THREATS (1): TRANSNATIONAL ORGANISED CRIME AND CYBERCRIME

15 items

The Oxford Handbook of Organized Crime 2014

Book There are several useful chapters in here - especially chapter 2 on Theoretical Perspectives on Organized Crime (Kleemans) and Chapter 24 on Cybercrime (Raymond & Grabosky).

Session 4 - THE DEVIANT IMMIGRANT

8 items

SESSION 5 - POLICNG IN A INSECURE WORLD: THEORISING GLOBAL POLICING AND GLOBAL GOVERNANCE

7 items

SESSION 6 - THE COMMODIFICATION AND PRIVATISATION OF SECURITY

11 items

SESSION 7 - EXPLORING THE COMPLEXITY OF GLOBAL 'CRIME' PREVENTION: MONEY LAUNDERING AND TERRORIST FINANCING

13 items

SESSION 8 - DELIVERING GLOBAL SECURITY: PROBLEMS AND PROSPECTS

10 items

Session 9: Student-led session: Images of global (in) security

0 items

This is a student-led session. Please see the two articles that have been loaded on to Blackboard under the module 'workshops' at session 9 to understand more about photovoice methodology and how this works. .
All rights reserved ©
Profile Required
Reading intentions and notes are stored against your user profile. Please create a profile to use this feature.
My notes
You must be logged in to add a note
What are item notes?
You can use item notes to make personal notes on any of your reading items. Notes are private to you and will not be shown to other users.
You can review your item notes from the list, the item page or from your profile page.
---
How do I create an item note?
To make notes, first you must be logged in. Once logged in, simply click Add note? next to the list item you wish to make notes on. You can also make notes at the bottom of every item's detail page.
Your note will be saved automatically as you type.
Have you read this?
You must be logged in to set a reading intention
What are reading intentions?
Setting up reading intentions help you organise your course reading. It makes it easy to scan through your lists and keep track of progress. Here's an example of what they look like: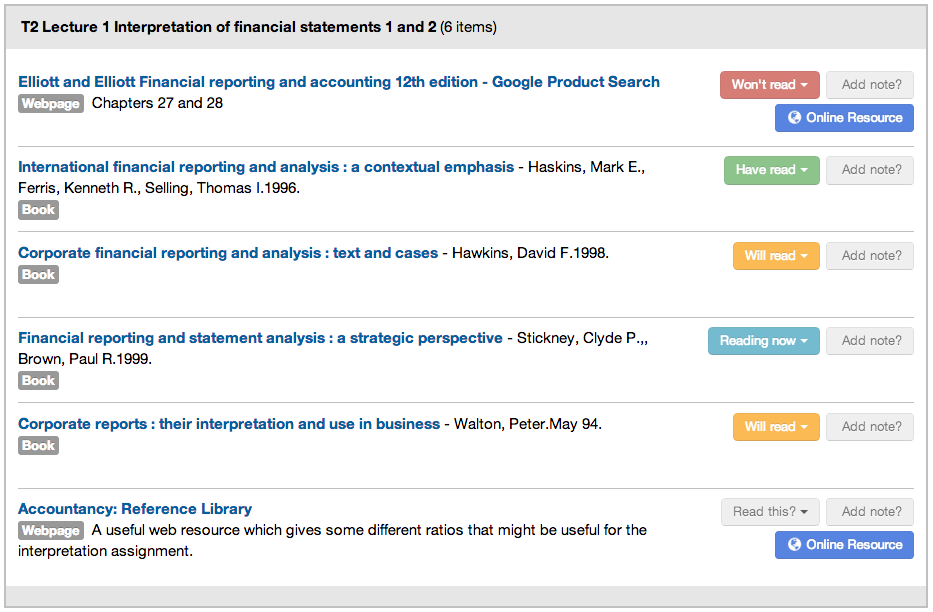 Your reading intentions are also stored in your profile for future reference.
---
How do I set a reading intention
To set a reading intention, first you must be logged in. Once logged in, click Read this? next to the list item you wish to set a reading intention for.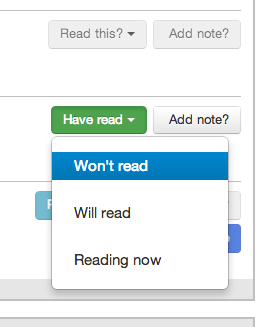 You can also set the reading intention from every item's detail page.