GY1411 Human Geography in a Globalizing world section 2 Clare Madge
2017-18
Section 2: Globalizing the Contemporary World

0 items

Reading is an integral part of this module!

1 item

Below is a full reading list for the module, organised according to lecture. For each lecture there are two Key Readings which should be read in conjunction with each lecture. For each lecture I also note some key Questions which you should keep in mind while attending the lecture, whilst reading and to help with revision. This is followed by a short list of Further Reading. Particularly useful readings are marked with * and indicate either a good overview or a key contribution. Additionally, I have included a more 'hand on' activity for each lecture. Your understanding of topics introduced in lectures will be enhanced by your reading. But remember to read critically. i.e. do not simply just summarise the main arguments made in the readings but also try to ask questions about and interrogate what the readings say. In other words, how does the author make an argument, and how convincing do you consider that it is?

Lecture 5: Globalization in the modernization period 1945-1980 and agents of development

17 items

Synopsis This lecture first outlines some key concepts with respect to globalization. It then explores globalization processes in the period known as the modernization period, 1945-1980. An important feature of this period of globalization was the rise of global institutions, such as the United Nations, the World Bank, the International Monetary Fund and the World Trade Organization. The responsibilities and operations of these core institutions of global governance will be outlined. These global institutions also run along-side other political organizations, including the nation state, civil society, Non-Governmental Organizations (NGOs) and New Social Movements (NSM). In this lecture we will briefly consider these different agents involved in globalization and development.

1. What is globalization? Outline the different approaches to understanding this term. 2. What are some of the key features of the modernisation period of globalization? 3. To what extent does contemporary globalization inherit processes and structures from the past? 4. What are the main global institutions that formed during Bretton Woods and how successful have they been in governing at the global scale?

Geographies of globalization - Warwick E. Murray 20140415567610,0415567629,9780415567626,9780415567619

Book Essential Good overview. Chapter 1. This is only available as hard copy. You will have to visit the library!

An introduction to human geography - P. W. Daniels 2012

Book Background Please read chapter 24 by Dodds and Woon on Global governance. More of a detailed read, so useful as additional reading.

Read/listen to the news and collect some case studies of UN intervention at the moment. How successful has the UN been in promoting global governance in these places? Browse the home pages of the following organisations to get an idea of their role and functions.Read/listen to the news and collect some case studies of civil society organizations. How successful have they been promoting development in the Global South?

Website Background A conglomeration of NGOs which carries news about development issues and has links to lots of other development organisations. A really useful website!

Website Background The long established international NGO. Can access information about world trade, debt and poverty alleviation.

Lecture 6: Contemporary patterns of globalization: living in a multi-polar world

21 items

Synopsis In the last lecture we brought the 'story' of globalization up to the 1980s. This lecture we will explore two more recent phases of globalization: The neo-liberal phase 1980-2007 and the post-millenium phase. First we examine the neo-liberal phase and question whether it enabled greater economic exchange and cultural transformations or whether it resulted in ever-increasing social and political inequalities? We then examine some of the most recent features of globalization, exploring the continued, but declining, role of America, the so-called 'global rebalancing' of the north-south divide, with the rise of the emerging economies in the BRICS countries (Brazil, Russia, China, India, etc) and the emergence of some African nations as important players in the global economy (Ghana, Nigeria, South Africa). Contemporary globalization is characterized by three key features: first, by the rapidity and fluidity of changes to the patterns of globalization; secondly, by the spaces of poverty and wealth experienced everywhere at various spatial scales (global, national, inter-regional, households etc); thirdly, contemporary globalization processes partly build on inheritances from the past and are partly the result of new social and economic processes. These features suggest that notions of development based on a north-south divide are misleading and rather simplistic: rather we are living in a rapidly changing multi-polar world in which some global inequalities are inherited from the past while others represent new 'layers' of inequality.

1. What are the key features of the neo-liberal period of globalization? 2. Has globalization during this period resulted in increased or decreased economic and social inequalities at the global and local scale? 3. In what ways do post millennium patterns and processes of globalization present challenges to conventional development models? 4. How and why does place/geography matter when considering contemporary globalization?

Page

http://www.oecd.org/eco/economicoutlook.htm  

Page

 http://www.bbc.co.uk/programmes/p02qztq9

Lecture 7: Flows of labour and capital: the everyday lived realities of economic globalization

23 items

Synopsis This lecture starts to examine in more depth some of the contemporary economic processes of globalization outlined in the previous lecture. In particular, we will focus on flows of labour, international capital and flows of people. We then start to consider globalization from below, in terms of the everyday lives realities of people living and working in the global south, with a focus on the informal sector. This is exemplified through a case study of child labour in Brazil. In the conclusions, by changing the frame to an understanding of the everyday impact of economic globalization on people's lives, I question whether this promotes an empathetic and emotional response to economic globalization and what difference this might make and to whom?

Lecture 8: Political globalization: the rise of global governance from above and resistance from below

13 items

Synopsis In the last lecture we examined some of the processes of economic globalization. In this lecture the focus will be on political globalization. First we examine the importance of history when trying to understand contemporary geopolitics. This is followed by a brief summary of the changing patterns of superpower politics in the contemporary period. Historically, political planning frequently fell to governments to implement policy and plan at the national level. However, we go on to explore globalization has altered the way politics is practiced in 2 main ways. First, we consider how the nation state has been challenged 'from above' by the rise of trans-state forms of governance (such as World Bank, WTO). Secondly, we consider how politics is influenced and resisted 'from below' by civil society groups and informal community institutions that contest national and transnational political policies. Case studies illustrate various forms of political resistance ranging from individual everyday withdrawal by street sellers, to challenging national formal politics by APPO in Mexico to struggle at the transnational scale through the anti-globalization movement. In the conclusions we recognize that political power is never absolute and that the global south has played an active role in shaping contemporary geopolitics- albeit that the political odds are still stacked against the most marginal and poor groups.

1. How is globalization altering the way politics is practiced from above and below? 2. In what ways has trans-state governance from above challenged the role of the nation state? 3. To what extent has contemporary geopolitics involved a shift from a bi-polar to a multi-polar world? 4. In what ways does the global south play active role in processes of contemporary geopolitics? 5. What are the various ways in which political processes have been resisted at a variety of different scales and from a variety of places? 5. How and why does political globalization show geographical variations?

Page

https://www.weforum.org/

Lecture 9: Cultural globalization: global convergence or localized hybridity?

31 items

Synopsis This lecture outlines some processes of cultural globalization. First we consider some key ways in which cultural globalization might be conceived: assimilation, acculturation, autakism. We then briefly consider the long history of cultural globalization before moving on to consider contemporary processes of cultural globalization. Some argue that the world is becoming more culturally uniform and standardized/homogenous owing to Western cultural imperialism while others argue for a localized hybridity or global cultural heterogeneity (glocalization). But local cultures can also reassert themselves in the face of global processes resulting in a 'mosaiced' heterogeneity. This reassertion may be in negative ways (bounded, fixed, inward-looking) or positive ways (progressive, dynamic, outward-looking). Progressive ways of thinking about culture see it as ever changing and so globalization is not seen as a threat to existing cultures but as a stimulus to a positive new response revolving around 'a progressive sense of place' (Massey, 1994).
All rights reserved ©
Profile Required
Reading intentions and notes are stored against your user profile. Please create a profile to use this feature.
My notes
You must be logged in to add a note
What are item notes?
You can use item notes to make personal notes on any of your reading items. Notes are private to you and will not be shown to other users.
You can review your item notes from the list, the item page or from your profile page.
---
How do I create an item note?
To make notes, first you must be logged in. Once logged in, simply click Add note? next to the list item you wish to make notes on. You can also make notes at the bottom of every item's detail page.
Your note will be saved automatically as you type.
Have you read this?
You must be logged in to set a reading intention
What are reading intentions?
Setting up reading intentions help you organise your course reading. It makes it easy to scan through your lists and keep track of progress. Here's an example of what they look like: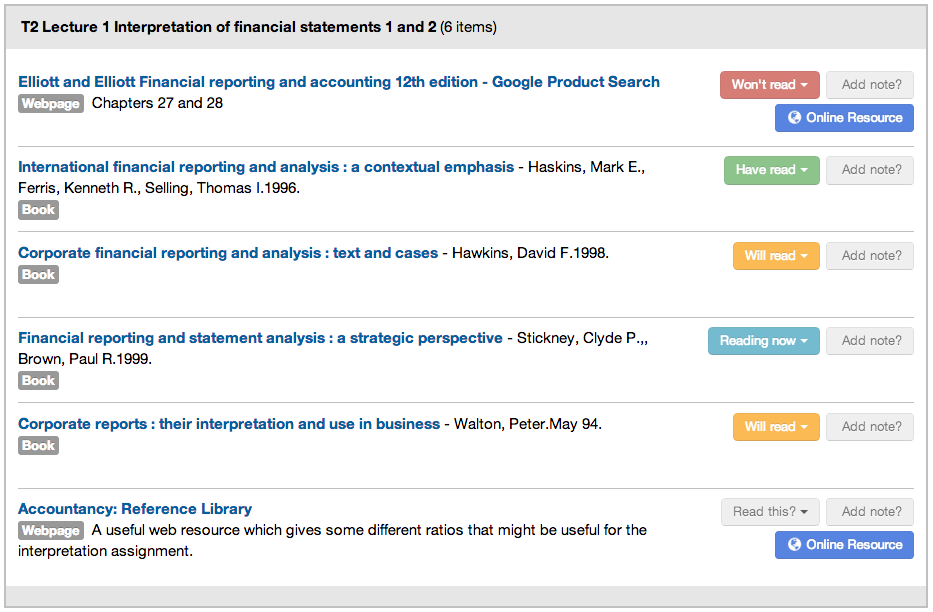 Your reading intentions are also stored in your profile for future reference.
---
How do I set a reading intention
To set a reading intention, first you must be logged in. Once logged in, click Read this? next to the list item you wish to set a reading intention for.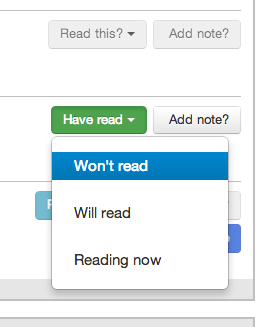 You can also set the reading intention from every item's detail page.