HIV and AIDS: a list for World AIDS Day
History and social aspects

8 items

Adventures of a Female Medical Detective - Mary Guinan, Anne D. Mather 20169781421419992

Book Mary Guinan was involved in the Centers for Disease Control and Prevention's work in the USA at the start of the AIDS epidemic. This is her memoir.

AIDS between science and politics - Peter Piot, Laurence Garey 2015

Book "This book recounts the experiences of the founding executive director of the Joint United Nations Programme on HIV/AIDS (UNAIDS) as he fought the disease from its earliest manifestations to today."

For younger readers

2 items

Fiction and literature

3 items

Diagnosis, management and treatment: chapters

7 items

Inform and counsel on HIV 2015

Chapter Chapter in WHO publication "Pregnancy, Childbirth, Postpartum and Newborn Care: A Guide for Essential Practice".

Diagnosis, management and treatment: textbooks and other material

6 items

Website A wealth of resources about HIV, AIDS and treatments, including a directory of services in the UK and beyond. Includes resources in languages other than English.

More in Library collections - use Library Search and filter search to Audio Visual. And in Box of Broadcasts - use the BoB link from the Library homepage.

Epidemic: When Britain Fought Aids Friday, 14 Jul 2017

Audio-visual document Documentary broadcast on Channel 4 in July 2017, revealing "the untold story of how Britain battled Aids, as told by the people who lived through it".

The Truth About HIV Wednesday, 31 May 2017

Audio-visual document Documentary broadcast on BBC1 Scotland in May 2017. "As trials are announced in Britain of a new preventative drug, Dr Chris van Tulleken explores the latest science around HIV, meeting health professionals, scientists, and individuals affected by the virus in the UK and South Africa, challenging the myths and stigma surrounding it."

Cent vingt battements par minute =: 120 BPM (beats per minute) - Robin Campillo, Nahuel Pérez Biscayart, Arnaud Valois 2018

Audio-visual document French drama centred on the AIDS epidemic in Paris in the 1990s. The film follows a group of activists who go to battle for those stricken with HIV/AIDS as they try to effect change as part of the ACT UP movement.

Audio-visual document Film starring Tom Hanks as a lawyer who discovers he is HIV positive, who is then fired, and about his fight against his unfair dismissal.
All rights reserved ©
Profile Required
Reading intentions and notes are stored against your user profile. Please create a profile to use this feature.
My notes
You must be logged in to add a note
What are item notes?
You can use item notes to make personal notes on any of your reading items. Notes are private to you and will not be shown to other users.
You can review your item notes from the list, the item page or from your profile page.
---
How do I create an item note?
To make notes, first you must be logged in. Once logged in, simply click Add note? next to the list item you wish to make notes on. You can also make notes at the bottom of every item's detail page.
Your note will be saved automatically as you type.
Have you read this?
You must be logged in to set a reading intention
What are reading intentions?
Setting up reading intentions help you organise your course reading. It makes it easy to scan through your lists and keep track of progress. Here's an example of what they look like: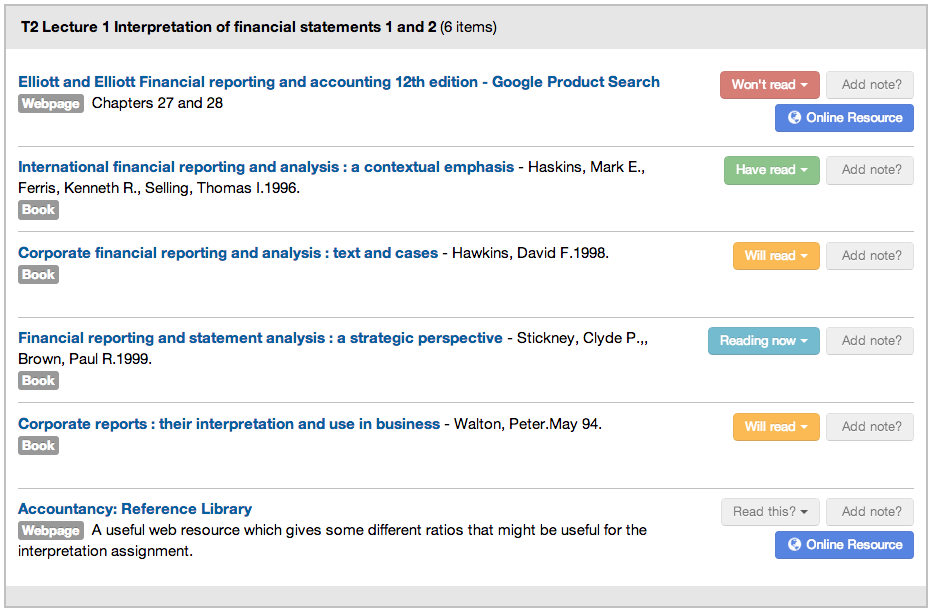 Your reading intentions are also stored in your profile for future reference.
---
How do I set a reading intention
To set a reading intention, first you must be logged in. Once logged in, click Read this? next to the list item you wish to set a reading intention for.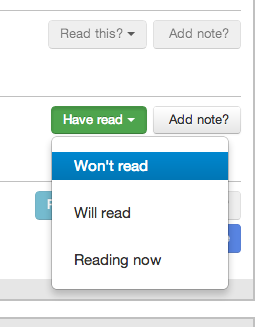 You can also set the reading intention from every item's detail page.