CR7146 Criminological research methods
2018-19
The textbook for this module is: Crowther-Dowey, C. and Fussey, P. (2013) Researching Crime: approaches, methods and application, Basingstoke: Palgrave MacMillan. This should serve as an introductory reading (for those with no social research experience) or reminder (for those with experience) and is the absolute minimum. Chapters from this textbook are suggested each week along with more challenging (interesting!) alternatives as the essential reading. Additional reading is also suggested. It is expected that you will choose this according to your own interests. Please feel free to go beyond the list is only indicative. Finally, first hand/original accounts have also been listed. These accounts are important as they give detail about the practice of social research (rather than solely the theory – which tend to dominate textbooks). Again, feel free to read according to your interest. This reading list is for guidance only. As masters students you ought to be capable of searching for appropriate literature.

Multi-media resources

1 item

BBC Radio 4 - Thinking Allowed

Webpage Background This is a weekly radio program/podcast of researchers speaking about their research. Highly recommended!

1: Introduction to Module and Assessment: Research Design and Epistemology - 4th October

11 items

Researching Crime: Approaches, Methods and Application - Chris Crowther-Dowey, Pete Fussey 2013

Book Essential See Part 1 Chapters 1-3: The principles of research pp 11-78; 68 pages chapter 1 research as an integrated process pp 13-35; 23 pages chapter 2 connecting research and theory: influences on criminological research pp 36-54; 19 pages chapter 3 crime research and criminological theory pp 55-78; 24 pages

Researching criminology - Crow, Iain, Semmens, Natasha c2008

Book Essential See Part I: The principles of criminological research pp 5-78; 74 pages Chapter 1: The research process pp 7-18; 12 pages Chapter 2: The principles of researching criminology pp 19-33; 15 pages

Criminological Research for Beginners: A Student's Guide - Laura Caulfield, Jane Hill 2014

Book Chapter 1. The context of criminological research: power, knowledge, politics and values pp 3-13; 11 pages Download PDF Read Online Show Subsections Chapter 2. The significance of criminological research: understanding the philosophical roots of our claims to know about crime in society pp 14-26; 13 pages

Social research methods - Bryman, Alan 20120199588058,9780199588053

Book Background This is an online, search-able resource. Hard copies are also available.

2: Introduction to quantitative methods; Designing a questionnaire - 11th October

6 items

3: Research Ethics - 18th October

8 items

4: SPSS 1 Introduction; variables. data entry; Quantitative assignment overview: 25th October

7 items

5: SPSS 2: Descriptive Statistics: Determining the normality of distributions: Inferential Statistics: Part 1: Cross Tabs and Chi Square - 8th November

8 items

6: SPSS 3: Inferential Statistics Part 2: Scatterplots and correlations: Inferential Statistics Part 3: Testing for differences (T test, Anova) - 15th November

8 items

7: SPSS 4: Reporting Quantitative Research Results and Interpreting Findings: Assignment Guidance Summary and Assessment Questions. 22nd November

8 items

8: Secondary data analysis and big data. 29th November

10 items

9: Preparing Your Research Proposal: 6th December

5 items

10: Alternative methods. Visualising and Mapping Crime Data Mixed Methods Research: 13th December

14 items

Semester 2 teaching - Qualitative Methods with Dr Joshua Stuart-Bennett

0 items

SEM 2 - Week 1 (17th Jan) - Introduction to Semnester 2: Policy, Research and Theory

8 items

For each week of the module, please read AT LEAST ONE of the readings marked ESSENTIAL. If two chapters are listed for one text, please read both of them.

SEM 2 - Week 2 (24th Jan) - Politics, Ethics, Power and Danger

13 items

Accounts from researchers

The Sage handbook of fieldwork - Hobbs, Dick, Wright, Richard 20060761974458,9780761974451

Book Background Jacobs, B (2006) 'The case for dangerous fieldwork'

SEM 2 - Week 3 (31st Jan) - Ethnography and Observation

28 items

Handbook of ethnography - Atkinson, Paul 2001076195824X,9781412946063

Book Reed-Danahay, D. (2007) 'Autobiography, Intimacy and Ethnography'

Ethnographies of crime/justice

SEM 2 - Week 4 (7th Feb) Interviewing and Focus Groups

12 items

Research which draws on interviews

SEM 2 - Week 5 (14th Jan) - Qualitative Analysis

3 items

SEM 2 - Week 6 (21st Feb) - Visual Methods

5 items

SEM 2 - Week 7 (7th March) - Internet Based Methods & Mixed Methods

5 items

SEM 2 - Week 8 (14th March) - Digital Histories and Assessment

5 items

Webpage Essential Kim Stevenson, Outrageous Violations: Enabling Students to Interpret Nineteenth Century Newspaper Reports of Sexual Assault and Rape, 36-61

Webpage Essential Andrew Davies, Mark Peel and Laura Balderstone, 'Digital Histories of Crime and Research-Based Teaching and Learning', 93-104

ASSESSMENT READING

6 items

Doing criminological research - Jupp, Victor, Davies, Pamela, Francis, Peter 20111848606524,1848606532,9781848606531

Book Wakefield, A. (2011) Undertaking a criminological literature review.
All rights reserved ©
Profile Required
Reading intentions and notes are stored against your user profile. Please create a profile to use this feature.
My notes
You must be logged in to add a note
What are item notes?
You can use item notes to make personal notes on any of your reading items. Notes are private to you and will not be shown to other users.
You can review your item notes from the list, the item page or from your profile page.
---
How do I create an item note?
To make notes, first you must be logged in. Once logged in, simply click Add note? next to the list item you wish to make notes on. You can also make notes at the bottom of every item's detail page.
Your note will be saved automatically as you type.
Have you read this?
You must be logged in to set a reading intention
What are reading intentions?
Setting up reading intentions help you organise your course reading. It makes it easy to scan through your lists and keep track of progress. Here's an example of what they look like: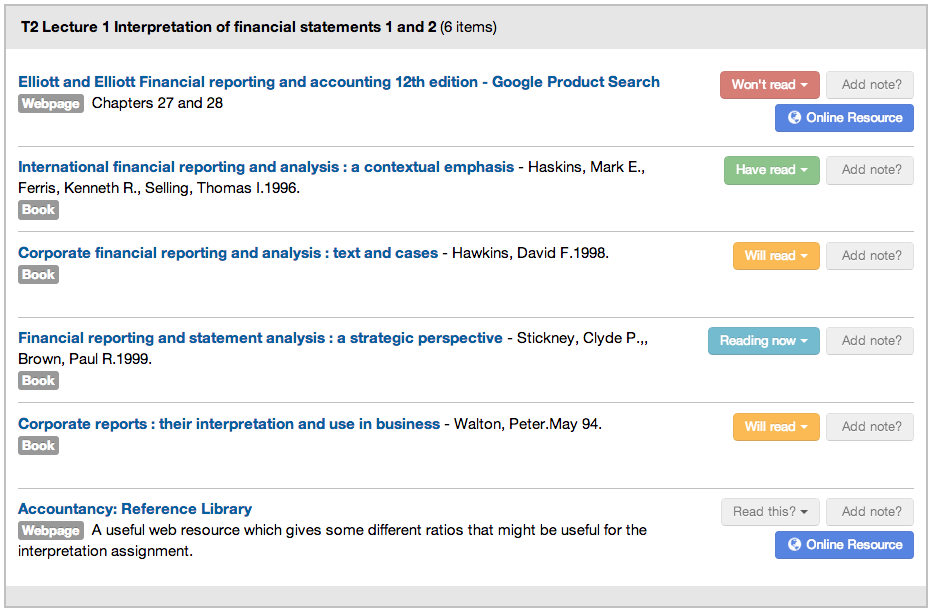 Your reading intentions are also stored in your profile for future reference.
---
How do I set a reading intention
To set a reading intention, first you must be logged in. Once logged in, click Read this? next to the list item you wish to set a reading intention for.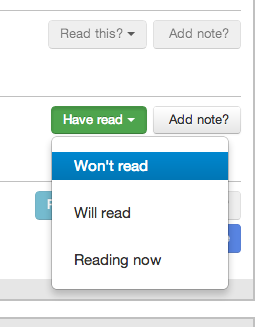 You can also set the reading intention from every item's detail page.