Critical Thinking
2014-15
Archived
What does 'critical thinking' mean for you in practice? How do you bridge the gap between Master's level and doctoral study? What if you're new to doctoral study and don't think you know enough to be critical yet? And what if your supervisor advises you to me more critical but you're not sure what this means in practice? Here are some resources that might help you.
This list relates to the date 2014-15 which ended on 31/07/2015
This list has been archived
The unwritten rules of PhD research - Petre, Marian, Rugg, Gordon 2010

Book This text contains a chapter on critical thinking in relation to doctoral research and writing, emphasising the importance of communities of practice and shared understanding. The chapter concludes with a variety of short experimental exercises to enable doctoral students to hone their critical thinking and creativity skills through, among others, inverting propositions, arguing from alternative perspectives and mind maps.

Critical thinking and the disciplines reconsidered - Martin Davies 08/2013

Article This is a stimulating exploration of critical thinking and the disciplines. Does critical thinking manifest itself differently in different fields? Are some areas of research more 'critical' than others? This article argues for a more universal, transferable view of critical thinking and guides the reader through the process of reasoning, evidence and drawing conclusions.
All rights reserved ©
Profile Required
Reading intentions and notes are stored against your user profile. Please create a profile to use this feature.
My notes
You must be logged in to add a note
What are item notes?
You can use item notes to make personal notes on any of your reading items. Notes are private to you and will not be shown to other users.
You can review your item notes from the list, the item page or from your profile page.
---
How do I create an item note?
To make notes, first you must be logged in. Once logged in, simply click Add note? next to the list item you wish to make notes on. You can also make notes at the bottom of every item's detail page.
Your note will be saved automatically as you type.
Have you read this?
You must be logged in to set a reading intention
What are reading intentions?
Setting up reading intentions help you organise your course reading. It makes it easy to scan through your lists and keep track of progress. Here's an example of what they look like: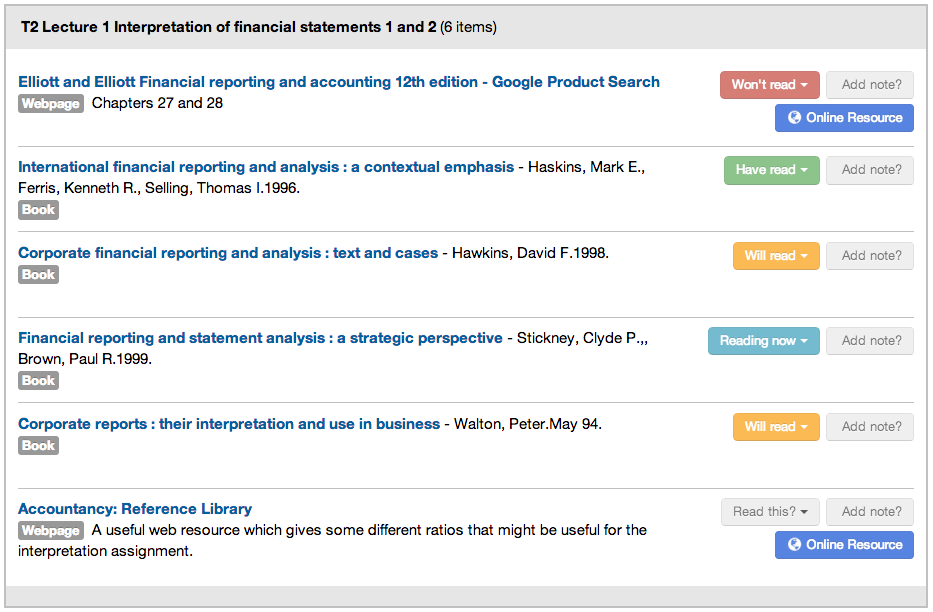 Your reading intentions are also stored in your profile for future reference.
---
How do I set a reading intention
To set a reading intention, first you must be logged in. Once logged in, click Read this? next to the list item you wish to set a reading intention for.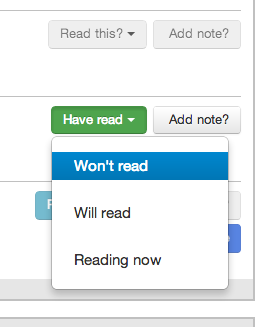 You can also set the reading intention from every item's detail page.